Monday, August 23rd, 2010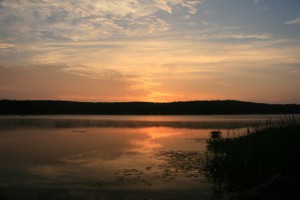 Whenever I go somewhere, I always try to bring my camera. This past weekend, I discovered that you'll never know when you need to capture something in a picture. I was able to wake up at 6:00am to capture this sunrise on the lake this past Saturday morning.
There were several times this weekend that I didn't have my camera. Friday, we went to Settler's Inn (www.thesettlersinn.com) in Hawley, PA for lunch. The flowers in their garden in the back were so colorful and abundant. On Saturday, I went down the Delaware River in a canoe. There were these beautiful wildflowers on the riverbanks. Also, when we were waiting to be picked up, there was this little rooster with feathered feet that I would have loved to take a picture of. We called him Boa-Feet.  Sigh…no camera.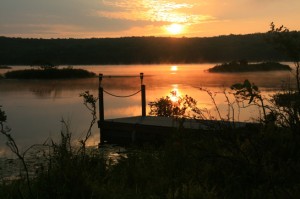 I found while taking pictures of the sunrise is that you need to be patient to get the right setup for the light  to be just right. Also, by adjusting the ISO and focusing on the horizon, the sky becomes sharper and more vibrant.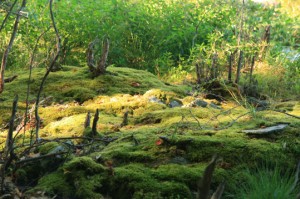 I like it when I happen upon a scene where the light is just right. I walked down a path and discovered this scene. Sometimes, pictures like this only happen in the moment you take them. So I always have to bring a camera, even if it is just a small one to capture the moment.