February 6th, 2011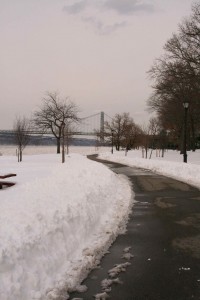 I read about the Little Red Lighthouse in NYC from the City Secrets book of New York City. I have always loved lighthouses and have recently visited the lighthouses in Southern Washington. After the big snow storm that NYC had on Jan. 27th, I decided it was the perfect time to go visit this site. Ehren and I took the Number 1 train to 145th st. We then had to walk over to Riverside Drive. When we got there, we still had to go over a bridge and under a tunnel to get there.  Also, not everything was plowed so we had to drudge through the snow to get to the walkway way on the Hudson. Thankfully, the walkway was was clear!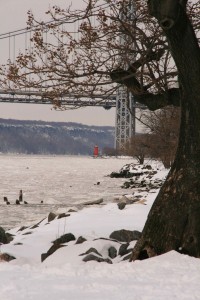 The lighthouse is under the George Washington bridge which is near 171st. We needed to walk about 30 blocks. I got excited when I saw the destination up ahead. As long as I had my camera, I didn't notice how long we were walking.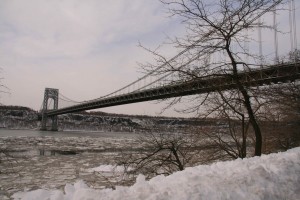 This past January, NYC has had about 4 major snowstorms. This past one on Jan 27th gave us about 2 feet of snow. This winter reminds me of my senior year at Syracuse, when they had to close the school due to the weather. Walking up to the GWB, I noticed that the Hudson had icebergs in it! Only the middle of the river was still flowing.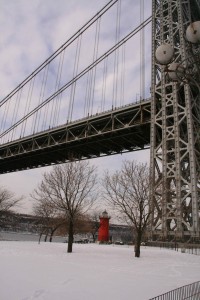 Finally made it  to the lighthouse! It was a perfect day for it. Around 32 degrees, partly cloudy, clear and cool. I wanted to go the weekend before, but the weather was around 17 degrees with the windchill was around 7 degrees. I don't think my body could have withstood the trip then.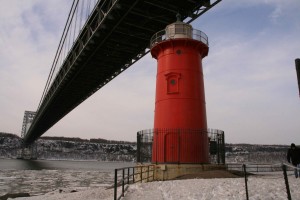 I took around 233 pictures. Some were duplicated from my fast shutter speed, but mostly I wanted to capture and document my trip. I will definitely be back when the weather is warmer!